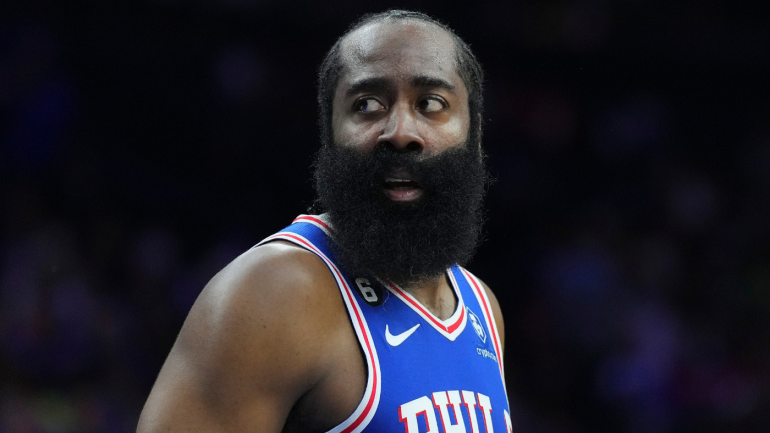 Another day, another talking point regarding James Harden and the Philadelphia 76ers. This time the All-Star guard is saying that he thinks his relationship with the team is beyond repair. After returning from China — where he publicly called 76ers president Daryl Morey a liar — for an event he's hosting in Houston this weekend, Harden spoke briefly about his relationship with the Sixers and the amount of patience he has with the situation.
"I've been patient all summer," Harden said via KHOU 11. "For me, it's just focus on what I can control and getting ready for this season."
When asked if he thinks his relationship with the Sixers is beyond repair, Harden responded "I think so."
So basically, nothing has changed since Harden requested a trade demand in late June, or since he called out Morey earlier this week and how he would never play for a team of his. Harden, who opted into a $35.6 million player option with Philadelphia in late June, is seemingly upset at Morey and the 76ers for two reasons. Harden was likely expecting a lucrative long-term offer from Philly this summer after taking a pay cut last offseason to give the team more financial flexibility. When that offer never materialized, Harden requested a trade, but those talks have fizzled.
While Harden has the patience to call Philadelphia's bluff of ending trade talks with the Clippers (his preferred trade destination) with the intention of bringing him into training camp, there are costly ramifications on the horizon.
If Harden follows through with holding out of training camp like what's been reported, it could cost him his free agency next summer. Because Harden is in the final year of his contract, the CBA states that if he "withholds services" for more than 30 days and isn't traded by the Sixers this season, then he won't be allowed to become a free agent next summer until Philadelphia "expressly agrees otherwise."
It's a potentially risky standoff for both sides, and Harden is likely betting on the Sixers not invoking that clause as it wouldn't land well with other players around the league. However, the Sixers also have an obligation to get the best deal possible for the their organization going forward, so dumping Harden at the first offer also isn't ideal. It's a tricky situation, and as we inch closer to training camp opening on Oct. 3 the tension will only rise as both sides try to figure out the best path forward.