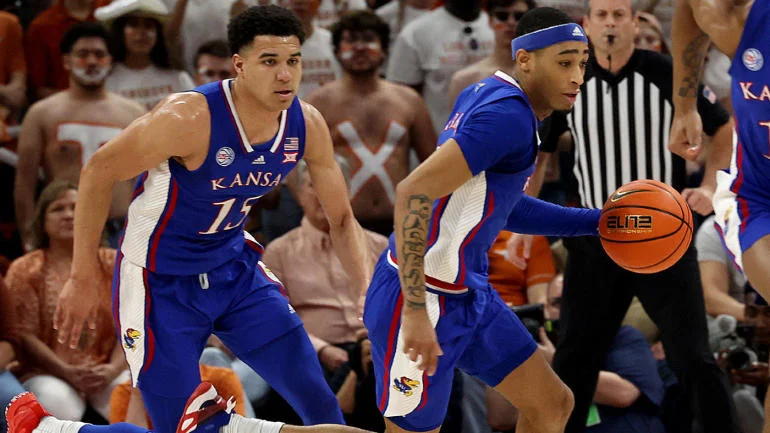 Last season Kansas went 28-8 and earned a No. 1 seed for the NCAA Tournament before a crushing 72-71 second-round loss to Arkansas brought the Jayhawks season to an abrupt end. Since then, KU lost leading scorers Jalen Wilson and Gradey Dick to the NBA Draft and a bevy of others to the transfer portal. In fact, only four scholarship players are back.
But amid all the attrition, one personnel move stood out above the rest for Kansas, both literally and figuratively. When KU landed a commitment from 7-foot-2 Michigan transfer Hunter Dickinson on May 4, it signaled to the Big 12 and the nation that the Jayhawks aren't going anywhere. Dickinson ranked as the No. 1 offseason transfer in the CBS Sports Transfer Rankings. He will combine with veteran returners Dajuan Harris, Kevin McCullar and K.J. Adams to give coach Bill Self an excellent nucleus.
But there are some depth concerns for the Jayhawks following the June departures of freshmen signees Marcus Adams Jr. and Chris Johnson. Without those two, the team was down to just 10 scholarship players before the late signing of freshman small forward Johnny Furphy on Aug. 3.
The Jayhawks put their revamped roster on display during a three-game exhibition tour through Puerto Rico this month, giving us a glimpse into how things are shaping up for Self's 21st season on the job. As offseason player movement cycle slows to a trickle, it's time to start breaking down the rosters of the sport's top programs. For this installment, we're taking a look at the Jayhawks and trying to decipher what their lineup could look like when the season begins.
Projected starting lineup
Dajuan Harris Jr.
6-2 | 170 | R-Jr.
Harris is a trusted, veteran point guard who averaged 8.9 points, 6.2 assists and 2.2 steals per game last season on the way to earning Big 12 Defensive Player of the Year. While it's possible his scoring average could tick up this season, it's more likely that he continues to serve as a gritty distributor and defensive menace who occasionally looks to score. Now in his fifth season with the program, Harris has fended off critics and plenty of challengers at his position to cement himself as a vital figure in this era of Kansas basketball.
Elmarko Jackson
6-3 | 195 | Fr.
Jackson steadily rose through the prospect rankings to finish the 2023 recruiting cycle ranked No. 19 overall, according to 247Sports. The McDonald's All-American is regarded as a fast and physical guard who is still developing skill after picking up organized basketball late in his youth. When Jackson signed, Self said, "we feel he will be an immediate impact player for us and potentially one of the best guards we've had in our program." While the other four starters remained constant during the Puerto Rico exhibition tour, Jackson was one of three Jayhawks who got a shot as the starting shooting guard. He averaged 10.6 points on 52.1% shooting and will be in a battle with Morris and Timberlake for the fifth starting slot.
Kevin McCullar Jr.
6-7 | 212 | R-Sr.
Getting McCullar back after he tested the NBA Draft waters marked a huge win for KU. A two-time Naismith Defensive Player of the Year semifinalist, McCullar rated as the Jayhawks' best defender by a significant margin last season, per EvanMiya.com. He is only a career 29.8% 3-point shooter but does everything else well. As a fifth-year Big 12 player with 112 college appearances, McCullar will be a tone-setter for Kansas.
K.J. Adams Jr.
6-7 | 235 | So.
Adams earned the Big 12's Most Improved Player award in 2023. The springy forward was often asked to punch above his weight in the front court as the Jayhawks regularly deployed small-ball lineups. Adams may need to expand his offensive repertoire a bit this season to allow Dickinson the space needed to operate in the paint. His 2 of 3 shooting performance from 3-point range in Puerto Rico was an encouraging sign.
Hunter Dickinson
7-2 | 260 | Sr.
The prized transfer of the college basketball offseason chose the Jayhawks over his pick of other top programs after three standout seasons at Michigan. Dickinson is an automatic Big 12 Player of the Year candidate and brings the heft to KU's front court that was missing last season as Self shied away from playing young bigs Ernest Udeh and Zuby Ejiofor. Both transferred to other schools following Dickinson's commitment as it's clear he should log 30+ minutes per game at center for the Jayhawks.
Bench
Arterio Morris
6-4 | 195 | So.
Morris played his freshman season at Texas after finishing the 2022 recruiting cycle as a five-star prospect in the 247Sports rankings. He logged just 11.7 minutes per game for the Longhorns but showed some flashes of his potential by reaching double figures in six games. A domestic violence allegation against Morris lingered throughout his freshman season and has cast a pall over the beginning of his college career. Now he'll get a fresh start with the Jayhawks and compete for the starting shooting guard spot. He averaged 13.5 points on 55% shooting in two games, which included one start, during the team's exhibition tour.
Nicolas Timberlake
6-4 | 195 | Graduate senior
Timberlake shot better than 40% from 3-point range his last two years at at Towson and evolved into an All-CAA performer. The veteran marksman will be asked to provide some punch from the perimeter amid the departures of Gradey Dick and Jalen Wilson, who combined for 61% of Kansas' made 3-pointers last season. He hit 6 of 15 attempts from beyond the arc (40%) during the August exhibition tour while starting one of KU's three games.
Parker Braun
6-10 | 235 | Graduate senior
The older brother of former Kansas standout and current Denver Nuggets wing Christian Braun is joining the Jayhawks as an experienced forward. Braun started 65 games the past two seasons for an upper-echelon WCC program at Santa Clara and has power conference experience after beginning his career at Missouri. He connected on 67.9% of his shots inside the arc last season while averaging 7.7 points and 5.8 rebounds. Braun logged 12.6 minutes per game during the exhibition tour.
Jamari McDowell
6-4 | 180 | Fr.
McDowell was four-star prospect rating who ranked No. 84 in the 2023 class. The Manvel, Texas native is a versatile backcourt option for the Jayhawks with a shot to crack the rotation early. "At 6'4″, he's got great size for his skillset and is a guy that I kind of see like as an Ochai (Agbaji) that you can throw lobs to and he's a terrific three-point shooter," Self said.
Depth
Zach Clemence
6-11 | 230 | So.
Clemence showed promise as a four-star freshman in the 2021-22 season but failed to carve out an increased role last season. He initially planned on transferring to UC Santa Barbara before changing course and returning to KU. While announcing his return, Self suggested a redshirt year would be ideal for Clemence.
Johnny Furphy
6-8 | 202 | Fr.
Furphy reclassified late in the recruiting cycle and signed with the Jayhawks on Aug. 3 as an intriguing prospect out of the Center of Excellence in Australia. "He is one of the most gifted, skilled young kids in the 2023 class and certainly as gifted and skilled as any player remaining that we could recruit," Self said.